Derek Brown – The Beatbox Sax
The eighth episode of the Blowing in the Wind podcast is ready!
Our guest this time is Derek Brown. He is a pioneering American saxophonist whose unique approach to the instrument has captivated audiences worldwide.
About Derek Brown:
Born on October 29, 1984, in Waco, Texas, Derek Brown's journey as a musician has been characterized by innovation, creativity, and an unwavering dedication to pushing the boundaries of saxophone performance.
Early Life and Education:
Growing up in a musically inclined family, Derek was introduced to the saxophone at a young age. His passion for the instrument quickly flourished, leading him to pursue formal music education. He attended Waco High School, where he honed his skills and gained recognition for his remarkable talent. His passion for music and the saxophone prompted him to further his studies at Northwestern University's Bienen School of Music, where he earned a Bachelor of Music degree in Saxophone Performance.
Innovative Techniques:
Derek Brown is best known for his groundbreaking and unconventional saxophone techniques. His signature style, known as "BEATBoX SAX," combines traditional saxophone playing with slap-tonguing (similar to beatboxing) to create a one-of-a-kind sonic experience. This innovative approach allows him to simultaneously play melodies and rhythms on his saxophone while adding percussive elements with his voice. Derek's mastery of this technique has earned him worldwide acclaim and a dedicated fan base.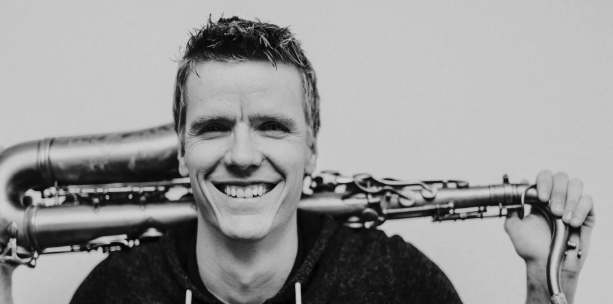 Career Highlights:
Derek Brown's career as a saxophonist took a significant turn when he began posting videos of his performances on social media platforms. His captivating videos quickly went viral, drawing the attention of music enthusiasts and fellow musicians. His rendition of Michael Jackson's "Billie Jean" became a viral sensation, further solidifying his reputation as a unique and influential saxophonist.
He has performed at prestigious venues and festivals across the globe, including the Montreux Jazz Festival, Umbria Jazz Festival, and the Jazz à Juan Festival. Derek has also shared stages with renowned artists such as Victor Wooten, Eric Marienthal, and Bob Mintzer.
Derek's commitment to education and sharing his knowledge is evident through his teaching and clinics. He conducts workshops and masterclasses worldwide, inspiring aspiring musicians to explore new avenues of saxophone performance and creativity.
Discography:
Derek Brown has released several albums that showcase his exceptional talent and innovative approach to the saxophone. Some of his notable recordings include:
"BEATBoX SAX" (2016)
"All Figured Out" (2018)
"Good Vibes" (2020)
Legacy:
Derek Brown has left an indelible mark on the world of music through his groundbreaking saxophone techniques and commitment to pushing the boundaries of what is possible with the instrument. He continues to inspire a new generation of saxophonists and musicians with his creativity, passion, and dedication to the craft.
As an American saxophonist, Derek Brown's influence extends beyond the borders of the United States, making him a global ambassador for the saxophone and a testament to the power of innovation and creativity in music. His unique approach has earned him a special place in the hearts of music enthusiasts, and he remains an iconic figure in the contemporary music scene.
Enjoy this interview on "Blowing in the wind", an inspirational podcast to debate about music and innovation. Let´s start!
You can visit their website by clicking here.
We have also recorded the podcast on video so you can see it in full on our YouTube channel. We hope you enjoy it!
From the bottom of our hearts, we want to thank Dan for being so supportive of the project and sharing his knowledge and experience with us in this seventh episode of the podcast. If you like it, you can subscribe to our podcast channels available on the following platforms: Ivoox, Google Podcast, Spotify y Apple Podcast.
LISTEN NOW ON SPOTIFY!?
Thank you for listening. Cheers & music!
ODISEI MUSIC TEAM