Electronic Saxophones, the "Ultimate Guide" to decide which one to buy.
Key differences among the leading electronic saxophones in the market.
Diving into the world of electronic saxophones is no easy feat. Many people who discover a digital saxophone go through various emotional phases. Initially, you feel like you're uncovering a new tool for work and practice that will be indispensable. As you delve into the market, you realize your mind starts receiving information about many products that are similar to each other. Your Google search becomes intensive to differentiate them, and in many cases, you find no significant differences compared to others. Does this sound familiar? Well, you're in the right place because this is the ultimate guide to electronic or digital saxophones.
Let's begin with the correct definition of a digital saxophone:
What is an electronic saxophone?
The electronic saxophone is an instrument designed to be used in any setting, at any time, and by all kinds of users. Unlike a conventional saxophone, it requires electronics to function. It weighs much less as it is usually made of plastics or lightweight alloys, and its primary use is to practice the instrument without the inconveniences caused by the loud sound it produces.
We will make a quick review of the models available on the market, and then we have a final surprise for you: a complete table comparison between all of them. Let´s get started!
Current Models of Electronic Saxophones
1. SYLPHYO: 879 €
It is a wind MIDI controller with a wide variety of sensors that allow you to play with sound distortion. It operates through pressure sensors with touch keys. It is primarily designed for electronic music rather than as a complement to a traditional musical instrument. It is an electronic wind instrument that reproduces the feel of an acoustic wind instrument but does not resemble a saxophone. It has motion sensors that contribute to achieving a considerable level of expressiveness. A significant drawback is that if you want to play it wirelessly, you also have to purchase a link from the same brand, which is priced at €330. Check the web by clicking here.
It might interest you if you…
compose electronic music and use a lot of synthesizers. As a MIDI expressive tool, it is interesting; however, it doesn't provide the sensation of playing a real saxophone.
2. AKAI EWI: 555€
From the category of wind MIDI controllers, it is one of the most popular. The fingering is similar to that of a saxophone, but the keys are capacitive sensors where no pressure needs to be exerted to press the keys. The company is one of the largest in the industry, so its products are quite reliable in terms of performance. It produces sound through the computer to which it is connected. Many people who have used the Ewi 5000 model have had problems changing sounds as the sound cuts off since it stores them on an internal hard drive that has to process information from the libraries. It is an instrument that requires a significant learning curve because it does not resemble a real saxophone in terms of shape and feel. Check the web by clicking here.
It might interest you if you…
are a fearless self-learner and want to explore new ways of playing a wind instrument. It is widely used for live performances with live bases.
3. ROLAND AEROPHONE: 989€
The Aerophone is one of the most popular products along with the EWI. It has fingering very similar to that of a saxophone, and its keys, in this case, are mechanical buttons. It has built-in speakers from which it emits sound. It belongs to Roland, a Japanese company born in 1970, a world-leading brand in the design, production, and distribution of electronic musical instruments, including keyboards and synthesizers, products for guitarists, electronic percussion kits, digital recording equipment, amplifiers, and audio/video processors. Check the web by clicking here.
It might interest you if you…
you want a hybrid tool for electronic or classical composition that respects the fingering of a real saxophone for a more realistic performance.
4. YAMAHA YDS150: 799€
It is a digital saxophone that is a fusion of two technologies – acoustic and digital – plus modeling. It has the advancements of the digital world and at the same time provides a sense of expressive unity as with an acoustic instrument. It is one of the most well-known options for saxophonists worldwide, both for studio and live use. Check the web by clicking here.
It might interest you if you…
you want a sensation as close as possible to a saxophone, and you don't mind the size of the instrument.
5. YAMAHA YDS120: 385€
It is the evolution of its predecessor, the Yamaha YDS150. The main difference is that the brand has eliminated the bell to create a smaller electric saxophone with similar features. It's important to note that this version doesn't include Bluetooth connectivity, which makes it a more affordable option compared to other Yamaha electronic devices. Check the website by clicking here.
It might interest you if you…
prefer the predecessor version with a bit more portability and don't mind the connectivity.
6. EMEO Music: 1.550€
EMEO is an electronic saxophone with features that make it similar to an acoustic one. It has been designed for practice: preparing for a concert, learning new music, and improving technical skills. It has a genuine saxophone mechanism, allowing you to pick it up and play it directly. EMEO has not been created to replace traditional saxophones but to be a practice instrument. Check the website by clicking here.
It might interest you if you…
you want to have a digitized saxophone. It is the closest thing to a real saxophone in terms of sensations. In fact, it uses the same key mechanism.
7. TRAVEL SAX 2: 649€
The Travel Sax 2 is the electronic saxophone created by Odisei Music. It has the real fingering of a saxophone with built-in spring mechanisms and is a completely independent instrument. Its main advantage is that it is the smallest and lightest on the market, making it fully portable anywhere. Designed for practice at all levels and styles: modern, jazz, and classical. Additionally, it is MIDI-enabled and includes over 50 sounds and an app to edit the fingering to your needs. Check the product here
It might interest you if you…
you want a real saxophone feel and need a lot of portability to practice anytime, anywhere you want.
COMPARISON TABLE Are you feeling confused? It's normal! We've attached a comparison table that will help clear your head.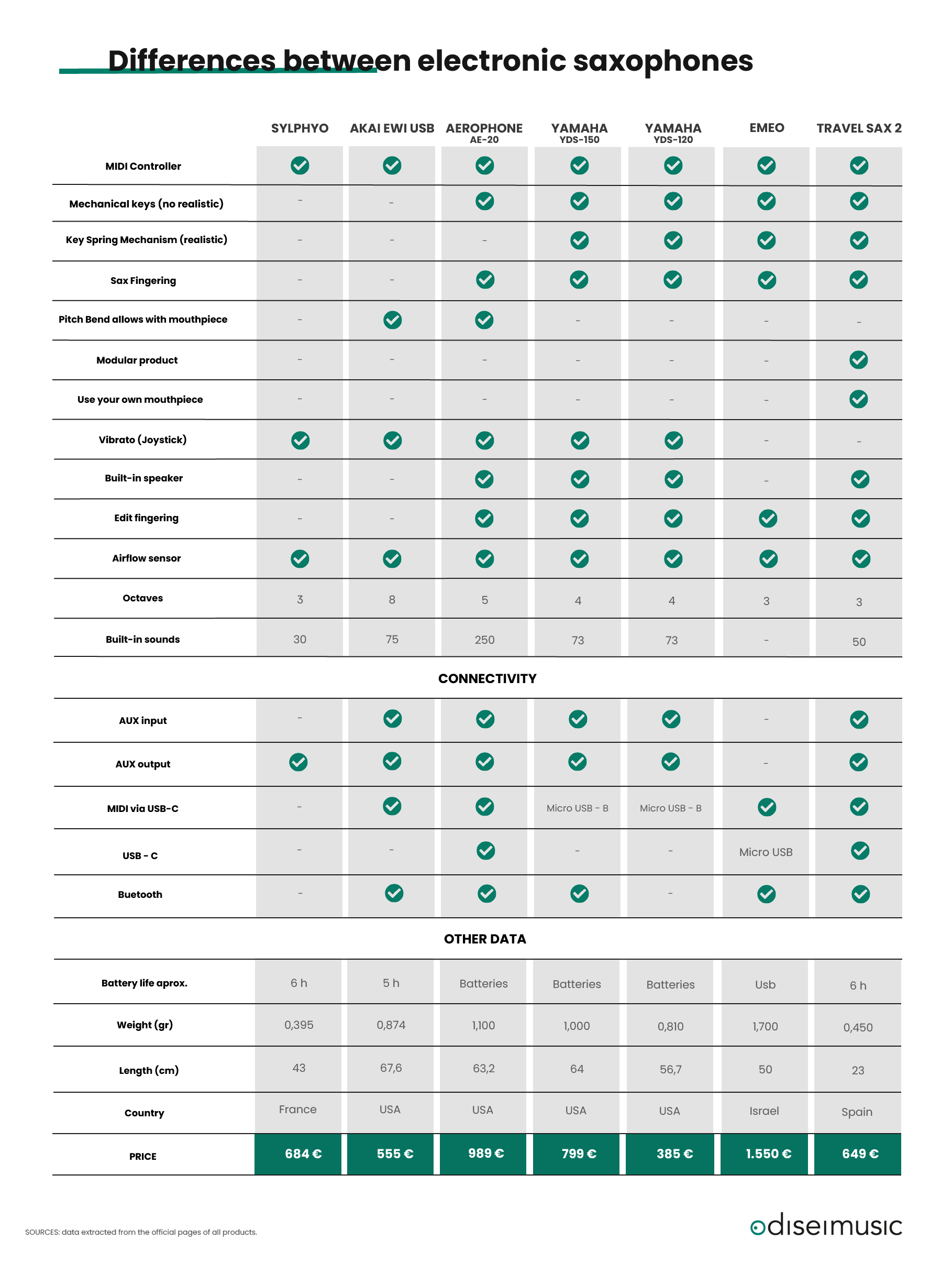 This table is updated as of November 2023. If any substantial change may exist in price or errors in the main features of the products, you can write to us at info@odiseimusic.com so that we can correct it.
In closing, as we navigate the electrifying world of electronic saxophones and explore the dynamic landscape of the market, it's evident that these innovative instruments are reshaping the way we experience music. Whether you're drawn to the cutting-edge features of the SYLPHYO, the classic sensibility of the AKAI EWI, the expressive possibilities of the ROLAND AEROPHONE, the fusion of acoustic and digital in the YAMAHA YDS150, the realism of the EMEO Music sax, or the unparalleled portability of the TRAVEL SAX 2, there's a digital saxophone to suit every musical journey.
Embrace the harmonious blend of tradition and technology, and let the soulful notes of electronic saxophones carry you into a new era of musical exploration. Stay tuned to the rhythm of innovation, and may your musical endeavors be as boundless as the possibilities these instruments bring. Until our next melodic encounter, play on and let the saxophone symphony resonate!
Check out our latest blog post where we explore the fascinating blend of classical elegance and modern innovation within the saxophone world. Uncover the secrets behind the harmonious coexistence of tradition and technology. 🎶✨ Follow the link to discover more: "Electronic VS Classic Saxophone". Don't miss the chance to immerse yourself in the rich melodies that bridge the classical and modern realms of this iconic instrument. Happy reading! 📚🎵
Odisei Music Team