Learn about the 5 online schools to learn saxophone
Sax School Online, Better Sax, ArtistWorks, Udemy…
1. Sax School Online
Sax School Online is a leading online platform dedicated to saxophone education, founded and curated by internationally acclaimed saxophonist Nigel McGill. With a passion for sharing his expertise and love for the instrument, Nigel established the school with the vision of making saxophone learning accessible to aspiring musicians worldwide.
The school offers a comprehensive and structured approach to saxophone education, catering to students of all skill levels, from beginners to advanced players. Through a series of step-by-step video lessons, interactive exercises, and play-alongs, students are guided through various playing styles, including jazz, pop, and classical, allowing them to explore their musical interests and develop versatile saxophone techniques.
At Sax School Online, the focus is not only on mastering the technical aspects of the saxophone but also on fostering creativity and musical expression. Nigel's years of experience as a saxophonist and educator shine through in the carefully curated curriculum, designed to empower students to unlock their full potential as musicians.
The school prides itself on building a supportive and encouraging online community, where students can connect, share experiences, and receive personalized feedback. This collaborative environment fosters a positive learning atmosphere, motivating students to stay committed to their musical journey and grow as saxophonists.
Whether aspiring to perform on stage, join a band, or simply play for personal enjoyment, students at Sax School Online benefit from a rich and inspiring learning experience. Nigel's dedication to providing top-notch saxophone education, along with the convenience of online access, has earned the school a reputation as one of the premier destinations for saxophone enthusiasts seeking to enhance their skills and knowledge in the world of music.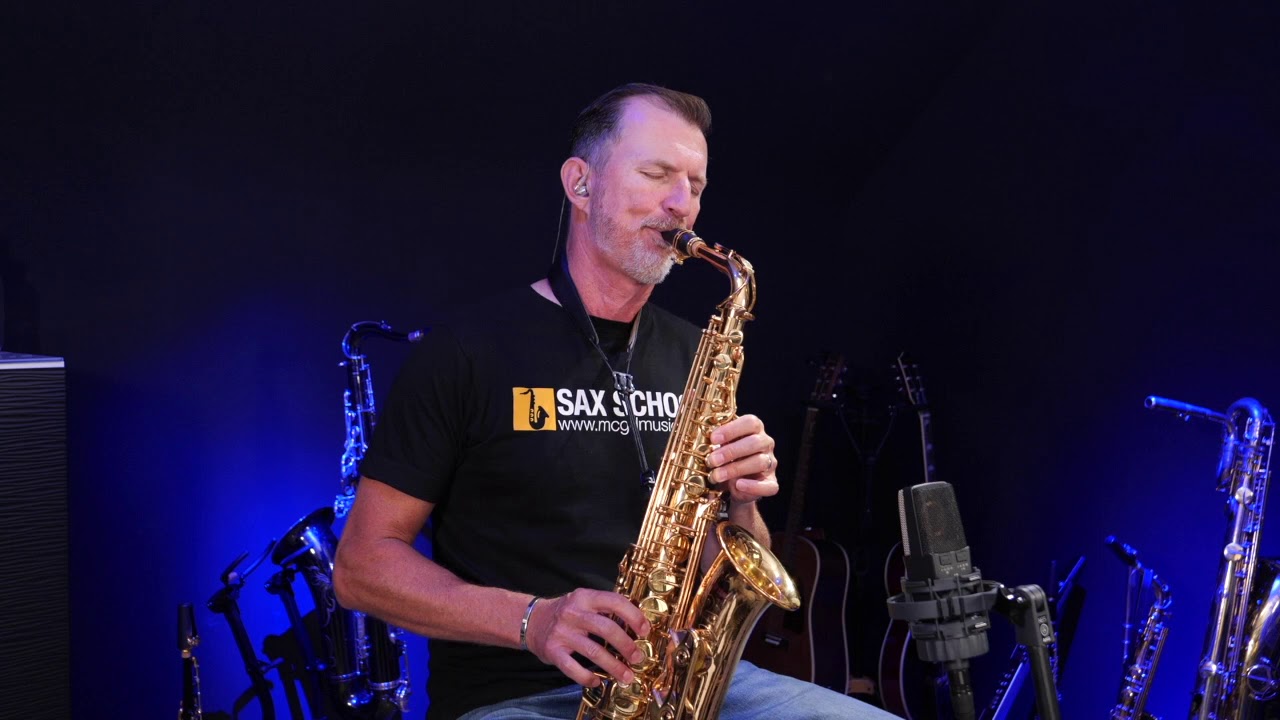 What kind of saxophonists would this online school be recommended for?
Aspiring Jazz Saxophonists: If you have a keen interest in jazz music and dream of becoming a proficient jazz saxophonist, Sax School Online is an ideal choice. The school's curriculum places a strong emphasis on jazz improvisation, bebop, swing, and other jazz-related styles. Nigel McGill's background as a jazz musician ensures that you will receive top-notch instruction and insights into the world of jazz saxophone playing.
Intermediate and Advanced Players Seeking Growth: If you are already an intermediate or advanced saxophonist looking to take your skills to the next level, Sax School Online can provide the challenges and resources you need to progress. The school's advanced lessons and tutorials cover a wide range of topics, allowing you to refine your technique, explore new genres, and improve your improvisation and performance abilities.
Multi-Genre Saxophonists: If you enjoy playing across different musical styles and want to develop versatility as a saxophonist, Sax School Online can be an excellent fit. The school's diverse curriculum encompasses various genres, including jazz, pop, and classical, offering opportunities to expand your repertoire and adapt your playing to different musical contexts.
There's some active promo now?
Sax School Online has a free 14-day trial to start the courses. You can go now by clicking HERE.
2. ArtistWorks
ArtistWorks is a renowned online music education platform that offers a unique and interactive way to learn the saxophone. Founded with the vision of bringing world-class music instruction to students globally, ArtistWorks stands out for its innovative approach to online learning.
The platform's saxophone course features the expertise of Eric Marienthal, a highly accomplished and Grammy Award-winning saxophonist. With Eric as the instructor, students gain access to a wealth of knowledge and experience, making it an exceptional opportunity to learn from a true master of the instrument.
What sets ArtistWorks apart is its interactive video exchange feature. Students can upload videos of themselves playing the saxophone, and Eric personally provides detailed feedback, tailored advice, and individualized instruction. This personalized feedback loop creates a dynamic and engaging learning experience, making it feel as if you have a one-on-one mentor guiding your progress.
The curriculum offered by ArtistWorks covers a wide range of topics, including saxophone techniques, music theory, improvisation, and performance skills. Whether you are a beginner or an advanced player, the platform caters to various skill levels, allowing students to progress at their own pace.
Furthermore, the platform fosters a supportive and vibrant community of saxophone enthusiasts, enabling students to interact with each other, share experiences, and celebrate their musical journey together.
With its cutting-edge video exchange technology and Eric Marienthal's expert guidance, ArtistWorks has earned its reputation as a premier online destination for aspiring saxophonists seeking a comprehensive and personalized learning experience.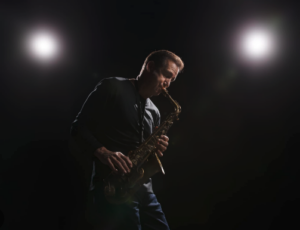 What kind of saxophonists would this online school be recommended for?
Beginner Saxophonists: If you are new to the saxophone and have little or no prior musical experience, ArtistWorks is an excellent platform to start your saxophone journey. Eric Marienthal's engaging and comprehensive video lessons provide a solid foundation in saxophone playing, covering essential techniques, music theory, and introductory repertoire. The personalized feedback through the video exchange feature allows beginners to receive individualized guidance as they develop their skills.
Intermediate Saxophonists Seeking Advancement: If you already have some experience playing the saxophone and want to take your skills to the next level, ArtistWorks can be a great fit. Eric's expertise as a world-class saxophonist provides valuable insights into more advanced techniques, improvisation, and stylistic nuances. The interactive video exchange enables intermediate players to receive personalized critiques, helping them refine their playing and bridge the gap between intermediate and advanced levels.
Jazz Saxophonists and Improvisers: Eric Marienthal's background as a jazz musician and his Grammy-winning career make ArtistWorks an ideal platform for saxophonists interested in jazz and improvisation. Whether you are a beginner aspiring to play jazz or an experienced jazz musician seeking to enhance your improvisational skills, Eric's jazz-focused lessons and personalized feedback can significantly benefit your growth as a jazz saxophonist.
There's some active promo now?
Yes, you can get some free lessons by entering your name and mail on the website. Please, check it now HERE.
3. Udemy
Udemy is a prominent online learning platform that offers a wide range of courses, including saxophone lessons. Founded in 2010, Udemy has grown into one of the largest and most diverse e-learning marketplaces, attracting students and instructors from around the world.
For learning saxophone on Udemy, you can find a variety of courses taught by different instructors, each with its own unique approach and expertise. The platform caters to saxophonists of all levels, from beginners to advanced players, and covers various musical genres, including jazz, classical, and pop.
Udemy's saxophone courses typically consist of video lessons, practice exercises, and downloadable resources to enhance your learning experience. Students have the flexibility to learn at their own pace, making it an ideal choice for those with busy schedules or limited access to in-person lessons.
One of the advantages of Udemy is its extensive user review system. Before enrolling in a course, you can read reviews and check the ratings to gain insights into the instructor's teaching style and the overall quality of the course. This feature helps you make informed decisions about which saxophone course aligns best with your learning objectives and preferences.
While Udemy offers a vast selection of saxophone courses, it's essential to research and choose courses taught by qualified instructors with a strong background in saxophone playing and teaching. Additionally, checking for any recent updates or changes to the platform can ensure you have the most up-to-date information before enrolling in any Udemy saxophone course.

What kind of saxophonists would this online school be recommended for?
Self-Motivated Learners: Udemy is an excellent choice for self-motivated saxophonists who prefer a flexible learning environment. Whether you are a beginner, intermediate, or advanced player, Udemy offers a wide range of saxophone courses that cater to different skill levels. As a self-directed learner, you can choose courses that align with your goals, learn at your own pace, and have the freedom to revisit lessons as needed.
Budget-Conscious Students: Udemy often offers saxophone courses at various price points, and they frequently have discounts and promotions. If you are looking for cost-effective ways to learn the saxophone without compromising on the quality of instruction, Udemy's affordable courses can be a practical and accessible option.
Genre-Specific Players: If you have a specific interest in a particular saxophone genre, such as jazz, classical, or pop, Udemy provides genre-specific courses tailored to your preferences. Whether you want to delve into jazz improvisation, master classical saxophone techniques, or explore pop music arrangements, you can find courses that focus on the style you want to learn.
There's some active promo now?
Udemy is always doing promos by offering some discounts on its courses. Check your website HERE.
4. BetterSax.com
BetterSax.com is a well-regarded online platform dedicated to providing top-notch saxophone education. Founded by Jay Metcalf, a skilled saxophonist, performer, and educator, the platform offers a comprehensive and modern approach to learning the saxophone.
With a focus on contemporary music, jazz, and improvisation, BetterSax.com caters to saxophonists of all levels, from beginners to advanced players. The platform's curriculum covers essential techniques, music theory, performance skills, and improvisation, enabling students to develop a strong foundation and express their unique musical voice.
What sets BetterSax.com apart is its emphasis on personalized learning. Through video lessons, interactive practice sessions, and individualized feedback, Jay Metcalf engages directly with students, tailoring instruction to their specific needs and goals. This personalized attention ensures a dynamic and effective learning experience.
BetterSax.com also fosters a supportive community, allowing students to connect, share experiences, and find inspiration on their saxophone journey. With a wealth of resources and a focus on contemporary musical styles, the platform empowers saxophonists to excel and reach their full potential in their musical endeavors.
Please note that the information provided is based on data available up to September 2021. For the most current and detailed information about BetterSax.com's offerings and developments, I recommend visiting their official website.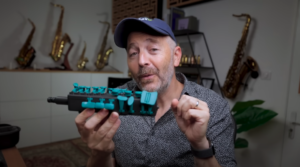 What kind of saxophonists would this online school be recommended for?
Jazz Saxophonists and Improvisers: If you have a passion for jazz music and want to improve your improvisational skills, BetterSax.com is an excellent platform. With a focus on contemporary music and jazz, the platform offers courses and personalized instruction to help aspiring jazz saxophonists develop their improvisation techniques and deepen their understanding of jazz theory.
Intermediate and Advanced Players Seeking Artistic Expression: If you are already an intermediate or advanced saxophonist and want to refine your skills while finding your unique musical voice, BetterSax.com can be highly beneficial. Jay Metcalf's personalized feedback and focus on contemporary music styles allow you to explore new artistic directions and enhance your performance abilities.
Self-Motivated Learners Looking for a Modern Approach: If you prefer a modern and interactive learning environment, BetterSax.com is an excellent fit. The platform's video lessons, interactive practice sessions, and personalized feedback cater to self-motivated learners seeking a dynamic and engaging saxophone learning experience.
There's some active promo now?
Yes! Jay has a lot of free resources to download: pdf´s, videos, Mp3…Click HERE to watch it!
5. Saxtuition.com
SaxTuition is a highly rated, unique way to learn the saxophone online. Whether you're a complete beginner or an intermediate/advanced player, our online courses guarantee rapid results on the saxophone and allow you to learn on your schedule.
Founded by saxophonist Jeremy Trezona, Jeremy combines his friendly & approachable teaching style with his extensive experience as a performing artist. Jeremy Trezona is a saxophonist, composer, and educator based in Perth, Australia. His performance credits include a variety of US cable television shows such as Jimmy Kimmel Live, The Today Show, Conan O'Brien and X-Factor, and large-scale concerts such as Coachella, Milan Fashion Week, The Greek Theatre and more.
As a jazz performer, Jeremy has recorded with Grammy award winning artist Peter Erskine (Weather Report, Michael Brecker) and Chris Schlarb (Sufjan Stevens, Nels Cline) whilst his past mentors have included Bob Mintzer (Yellowjackets), Russell Ferrante (Yellowjackets) and Jamie Oehlers.
In 2018, Jeremy launched SaxTuition, an online brand dedicated to helping create saxophone players worldwide. Through its website, blog, YouTube channel and Facebook, SaxTuition has grown into the premier destination for newcomers to the saxophone worldwide.
Since launching in 2018, the SaxTuition YouTube Channel has quickly amassed over 1 million views, making it one of the most popular saxophone resources on the web. Over 20,000 people have subscribed or followed across YouTube, Facebook, and Instagram. His followers are passionate about learning the saxophone!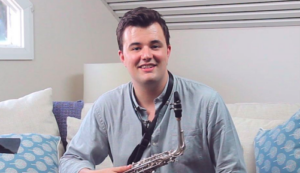 What kind of saxophonists would this online school be recommended for?
Beginners:  They offer an online course available for complete beginners – the SaxTuition Beginner Series. In only 12 lessons, go from never playing the saxophone in your life, to confidently playing songs across the entire range of the saxophone with a rich, sultry tone.
Intermediates:  If you've mastered the basics, but want to take your playing to the next level, check out Supercharged Saxophone. Break through the 'intermediate trap' and become a confident jazz & blues saxophonist by mastering your practice. Since mastering the basics, your progress has stalled. No matter how much you try, you simply can't get out of the "intermediate trap". Your practice feels aimless and is no longer producing results.
Advanced:  If you're a confident player but are struggling to progress, you need a practice system. Supercharged Saxophone can help! Maximize every second of practice time you have to get incredible results on the saxophone – especially if you lead a busy life. You want to play the music that inspired you – the same music that the saxophone is famous for – jazz, blues & R&B! The only problem? Sounding like the legends on the records you love feel impossible to achieve.
There's some active promo now?
Yes! Even if you´re a totally beginner or you´re intermediate/advanced, you can download some resources HERE for free.
This list is just a selection and there are many other great Sax Online Schools. This top 5 is made as a contribution to spreading the word of the saxophone world and the culture of this amazing instrument.
Odisei Music Team